What is Trojitá?
Trojitá is a small, light, and fast IMAP e-mail client built with Qt.  Now, Trojitá is officially a part of the KDE project, and one of the first applications in the whole suite to support Qt5.  The announcement comes as a surprise to us, as there is already a well established e-mail client and PIM suite within KDE that takes advantage of KDE as a desktop environment.
So, why the move?  jkt has this to say:
After reading the KDE's manifesto, it became obvious that the KDE project's values align quite well with what wewant to achieve in Trojitá. Becoming part of a bigger community is a logical next step — it will surely make Trojitá more visible, and the KDE community will get a competing e-mail client for those who might not be happy with the more established offerings. Competition is good, people say.
This move is increasingly interested after reading this paragraph from jkt's blog.  He claims that Trojitá doesn't require KDE to run, which we think is great!  There are a lot of apps in the KDE SC that are valuable as stand-alone applications, like Krita, but the KDE dependency list is a mile long for non-KDE users.  Trojitá eliminates that, but at the same time takes no advantage of KDE's more prominent backend services, like Nepomuk.
You don't have to. Trojitá will remain usable without KDE; you won't need it for running Trojitá, nor for compiling the application. We don't use any KDE-specific classes, so we do not link to kdelibs at all. In future, I hope we will be able to offer an optional feature to integrate with KDE more closely, but there are no plans to make Trojitá require the KDE libraries.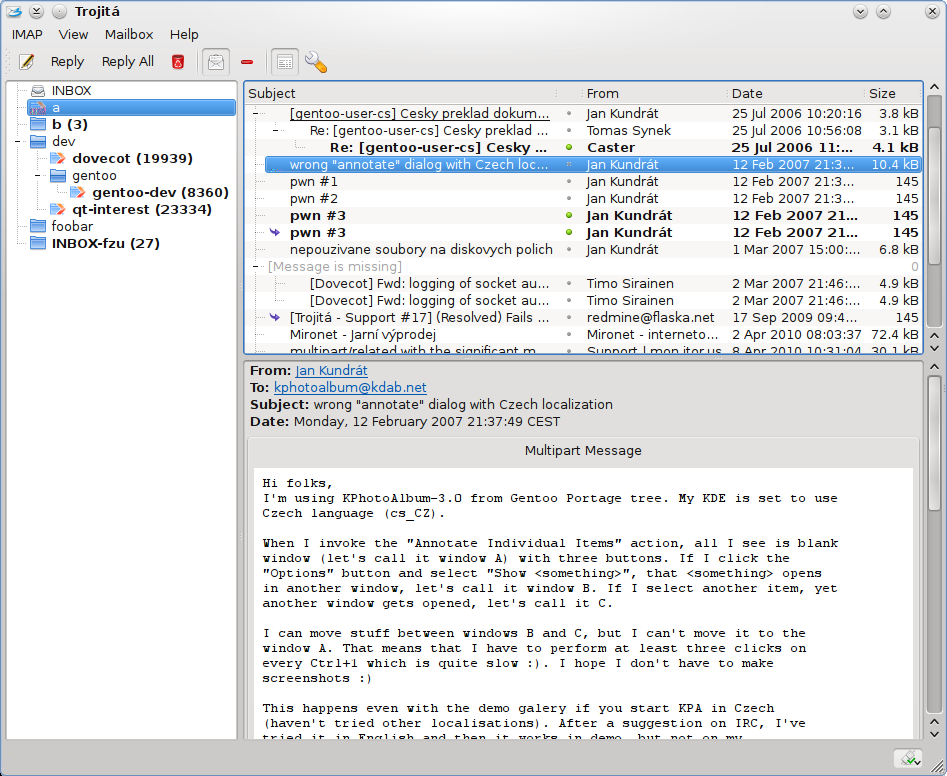 So what is the reason for welcoming this project into KDE?  It seems to be relatively bare-bones like Geary, where as Kontact is more of a be-all-end-all solution.  Is the KDE project admitting through welcoming Trojitá that Kontact will no longer be actively maintained?  Either way, we're sure Trojitá is at least worth a look, and we wish them the best of luck.  In the meantime, if you want a stable, feature-rich, and rock-solid email client, why not just use Thunderbird?